Hi...My name is Nick.

I was born in southern Indiana where I still live today. I am 30 years old and have never been married and have no children. I am Roman Catholic and attended a local Catholic elementary school and high school. I graduated from Vincennes University in Indiana and recieved an Associate's degree in science with a major in Law Enforcement. I have also attended Indiana University Southeast and have earned additional credit hours toward a bachelor's degree. During my eight years with the local sheriff's department I have worked as a reserve police officer, corrections officer, and a corrections supervisor. I am interested in working in the private sector related to security or investigation.

I have many interests and hobbies. Some of them include boating, shooting, camping, reading, traveling, fishing, and hunting. I have a Sea Ray 20' runabout boat that I use in the Ohio River when I have the time. The Ohio River is a beautiful place to boat and participate in several other types of watersports.

I also enjoy shooting and guns very much. I believe that every law- abiding citizen has the right to keep and carry guns for thier pleasure and protection. All of the picutres of firearms on my site are ones that I own and shoot. I am a member of the NRA and think that we all should be very aware of any attempts to limit our rights to gun ownership as well as other areas of our lives where the government tries to regulate us unnecesarily.

The answer to stopping violent crime and gun violence is not to disarm the law abiding citizen, but rather lock up the violent criminal for a long, long time. Do not let him back out to prey on and victimize society. And if he has been tried and covicted for killing others, then I believe in capital punishment, the ultimate deterrant. Making more laws to restrict gun ownership and gun use do nothing to stop the criminal. It only limit the rights of the law-abiding citizen. Criminals, by definition, do not follow the laws anyway. I hope you will find some interesting and useful information on my gun page.



Republican and Proud!

I also have a very special lady in my life now. Her name is Cindy.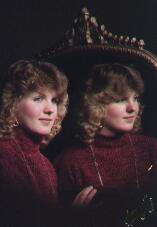 She moved to Indiana from Ohio a little over four months ago. Since then we have became very good friends and care a lot for each other. She means a great deal to me. She works locally as an X ray technician.

I also have also been blessed with many other very good friends. The designer of this page, Anna, is very dear friend of mine. I met her online about 8 months ago. She is a school teacher and a sweet, dear friend. She lived in Virginia when we met and has decided to move to Spain to live near other friends of ours, Jessy and Jose. I also met Jessy online over a year ago and we became close friends too. Jose is Jessy's husband and they are expecting their first child.

Another local friend of mine is Steve. We have known each other for ten years and we are very good friends. He is 35 and is single. We have a lot of common interests and enjoy each other's company. I will try to get a picture of him for my Friend's Page.

Another local friend, DJ, has returned to college at Vincennes University. We have known each other for 11 years and are very good friends. He is 29 and single also.


---